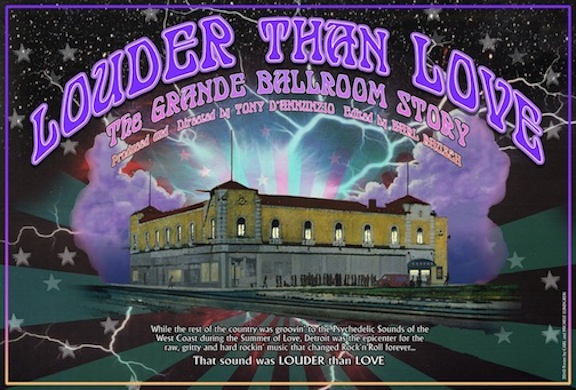 Louder than Love – The Grande Ballroom Story
New Film by Producer/Director Tony D'Annunzio Gives Viewers All-Access Pass to Legendary 1960s Detroit Rock Music Scene
Feb 19th 2013- In just over 9 months LOUDER THAN LOVE-The Grande Ballroom Story continues to knockout film festival audiences! 14 Cities, "BEST DOCUMENTARY AWARD" of the prestigious Las Vegas International Film Festival, "BEST INDEPENDENT STANDOUT AWARD" at Hell's Half Mile Movie and Music Festival and 20 consecutive SOLD OUT Screenings! That's quite an achievement for LOUDER THAN LOVE: The Grande Ballroom Story, the new film by Producer/Director Tony D'Annunzio
LOUDER THAN LOVE debuted to standing ovations at the World premiere April 5, 2012 at the Detroit Film Theatre at the Detroit Institute of Arts, followed by accolades at Chicago International Movies & Music Festival, Nashville Film Festival and a sold out show at Cleveland's Rock and Roll Hall of Fame + Museum. Also had another capacity crowd at the inaugural Cinetopia Film Festival at the Michigan Theater in Ann Arbor, Michigan.It just recently was screened at the Traverse City Film Festival and personally handpicked by Michael Moore.
"An Amazing look back at the talent and creative culture produced in this State"
Michael Moore
"The Grande Ballroom era is potentially the greatest untold story in rock and roll history," says D'Annunzio, a Detroit native. "With everything Detroit has been through in the last several decades, I wanted to let folks know that aside from the automobile industry, the city has some amazing musical history which helped shape American pop culture."
ABOUT THE FILM
While the West Coast was grooving to the sounds of the "Summer of Love" in 1967, Detroit was pumping out a hard-driving, gritty, raw sound. At the epicenter of this seminal music scene stood the Grande Ballroom, Detroit's original rock and roll palace. That sound was LOUDER THAN LOVE
LOUDER THAN LOVE: The Grande Ballroom Story, a new film by producer/director Tony D'Annunzio, relates the story of the hallowed halls that started it all, as told by the artists and fans who helped fuel the Grande phenomenon.
In the late 1960s, the Grande helped to break some of America's most iconic rock bands including MC5, Iggy and the Stooges and Ted Nugent and the Amboy Dukes, who influenced local musicians and inspired bands all over the U.S. and Great Britain. Legendary acts such as Led Zeppelin, Cream, B.B. King, Janis Joplin, Pink Floyd and the Who played the Grande main stage on a regular basis.
Using a Sony 24P HDCAM, D'Annunzio amassed more than 60 hours of interviews with artists and other insiders from The Grande's heyday including musical icons B.B. King, Alice Cooper, Roger Daltrey, Scott Morgan, Mark Farner, Tom Morello, Wayne Kramer, Lemmy, Ted Nugent, Henry Rollins, Don Was, Slash, Dick Wagner, and James Williamson. He also collected over 500 never-before-seen archival photos–taken by professional photographers and fans–of performers such as The Who, Howlin' Wolf, Albert King, Cream, Pink Floyd, Jeff Beck Group, MC5, Traffic, and Iron Butterfly.
"We have incredible 8mm film of The Who performing "Tommy" for the first time, including an audio recording by Pete Townsend explaining "Tommy" to The Grande audience. Both have never been seen or heard in any documentary," D'Annunzio notes.
ABOUT THE SOUNDTRACK
The movie soundtrack presents 20 original recordings from some of Detroit's greatest rock and roll bands including MC5, Iggy Pop and The Stooges, Amboy Dukes, The Up, Frost, The Rationals, Savage Grace, Jagged Edge, Wilson Mower Pursuit, Detroit, and Frigid Pink, and a brand new song written and performed by Dick Wagner appropriated titled "Motor City Music."
Playlist
• Rock and Roll Music – The Frost
• House Of The Rising Sun – Frijid Pink
• Borderline – MC5
• Rock 'n' Roll – Mitch Ryder and Detroit
• Turn Your Head – Savage Grace
• All Along the Watchtower – Savage Grace
• Solar Boat Ride – Wilson Mower Pursuit
• Guitar Army – The Rationals
• You Talk Sunshine I Breathe Fire – Amboy Dukes
• Migration – Amboy Dukes
• Looking At You – MC5
• Mystery Man – The Frost
• Kick Out the Jams – MC5
• Just Like an Aborigine – The Up
• Parchman Farm – Cactus
• God, Love and Rock and Roll – Teegarden and VanWinkle
• 1969 – The Stooges
• Delilah – Jagged Edge
• Can't Handle Your Lovin' – Jagged Edge
• Grande Days – Rob Tyner
• Motor City Music – Dick Wagner