Find out where you can see Louder Than Love screenings.
Upcoming Events
We are very pleased to announce the San Diego Premiere of LOUDER THAN LOVE at the Frequency Film Festival for 2 dates- MAY 25th Saturday 2013 and June 7th Friday 2013
http://www.frequencyfilmfestival.com/documentary-feature-films/
May 25th Info & Tickets
http://www.brownpapertickets.com/event/376074
June 7th Info & Tickets
http://www.brownpapertickets.com/event/376158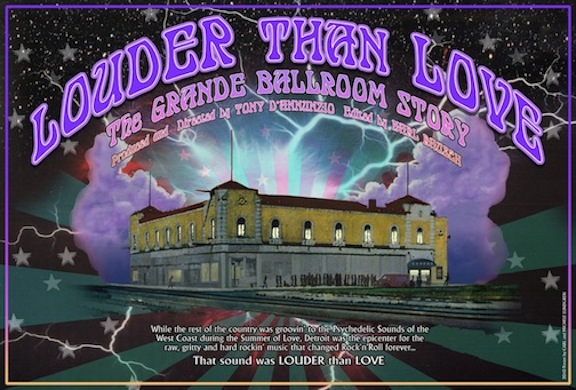 Past Events
Sebastopol Film Festival 2013 March 21-24
SOLD OUT !
http://www.sebastopolfilmfestival.org/film.php?id=186
Gasparilla Film Festival 2013 March 19-23
SOLD OUT !
http://gasparilla.festivalgenius.com/2013/films/louderthanlovethegrandeballroomstory_tonydannunzio_gasparilla2013Sebastopol Film Festival 2013 MARCH 21-24
2013 Victoria Film Festival
See " REVIEWS" page for all the latest from the 2013 VFF,Gasparilla Film Festival and Sebastopol Documentary Film Festival
Hell's Half Mile 2012 Film Festival
"Audience -STAND OUT Award " 2012 Hell's Half Mile Film Festival
http://www.brownpapertickets.com/event/276166
Las Vegas Film Festival 2012 JULY 19th to JULY 22nd
http://www.lvfilmfest.com/Festival_2007/Schedule.aspx
"BEST DOCUMENTARY" 2012 Las Vegas Film Festival
Traverse City Film Festival 2012 JULY 31st to AUG 5th
http://www.traversecityfilmfest.org/

2 SOLD OUT SCREENINGS!
http://secure.traversecityfilmfest.org/WebSales/pages/Info.aspx?epguid=743ab825-b205-4aff-afed-dafad039b2ef&evtInfo=37159~4d61cd53-466a-4a38-9b0c-5dd9c77930d9&
The Rock & Roll Hall of Fame: Wednesday, May 16th
http://rockhall.com/event/film-screening–louder-than-love/
SOLD OUT
April 5th 7p and 930p -Detroit Institute of Arts/Detroit Film Theater -DETROIT REVEALED ON FILM Exhibit
http://www.dia.org/auxiliaries/event.aspx?id=3087&iid&aux_id=14&cid=100
all proceeds from tickets sales are going to the Cass Community Services
http://casscommunity.org/"
SOLD OUT – 2 Shows
April 9th Michigan Theater/Martin Bandykes MOVING PICTURES Film Series
http://www.dia.org/auxiliaries/event.aspx?id=3087&iid&aux_id=14&cid=100
SOLD OUT
April 12-15th Chicago International Movie and Music Fest
http://www.cimmfest.org/
SOLD OUT
April 19-26th Nashville Film Festival
http://www.nashvillefilmfestival.org/
SOLD OUT
Chicago International Movie and Music festival 2012,Chicago,Ill APRIL 12th to 15th
http://cimmfest.org/louder-than-love-the-grande-ballroom-story/
SOLD OUT
Moving Pictures Film Series 2012,Ann Arbor Mi APRIL 9th
SOLD OUT
Detroit Revealed Film Series 2012 Detroit Mi APRIL 5th 7p & 930p
http://www.dia.org/auxiliaries/event.aspx?id=3087&iid&aux_id=14&cid=100
SOLD OUT – 2 Shows