"A Night Of Grand Love" Gary Grimshaw Benefit hosted by WCSX's Doug Podell March 22, 2014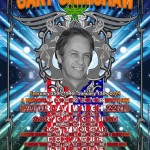 A Night of Grand Love" at NEW YORK NEW YORK INSIDE THE PREMIERE CENTER ON 23 MILE IN CHESTERFIELD.
Hosted By 94.7 WCSX, Doug Podell & John Sinclair!
Showing Tony D'Annunzio's award winning film "Louder Then Love – The Grande Ballroom Story" and Live performances by Gary Quackenbush from SRC , Scott Morgan from The Rationals, and Dick Wagner and Friends from The Frost…all to Benefit Gary Grimshaw Family and Wife Laura Grimshaw…legendary artist for The Grande Ballroom Posters. The Family has insurmountable bills to pay so the Detroit & Michigan Rock community is stepping up to help. There will also be a Rock Auction of classic memorabilia some from Gary's Personal collection. Many special guests and friends are expected to be there and play.
House/Doors at 4:30 Donation of $15 for Movie and Concert or $10 for just Concert…Hope to see you all there .
Doug Podell
Louder Than Love is the Award Winning Documentary about the legendary Grande Ballroom Directed by Tony D' Annunzio.
LOUDER THAN LOVE is the story of the Grande Ballroom in Detroit Michigan. The Grande Ballroom was the birthplace of the Detroit Rock Music Scene. Bands like MC5, Iggy & The Stooges, Ted Nugent & The Amboy Dukes, Alice Cooper and many more got their start here.
The Grande not only influenced local Detroit musicians but inspired bands from all over the US & from Europe. Legendary acts like Led Zeppelin, The Cream, BB King, Janis Joplin, Pink Floyd and the Who graced the stage at the Grande on a regular basis.
While the west coast was groovin' to the sounds of the "Summer of Love" in 1967, Detroit was pumping out a hard driving,gritty and raw sound that was "LOUDER THAN LOVE"
http://thegrandeballroomstory.com/
Tickets can be purchased the night of Event. Movie and concert $15.00
Concert from 7 to end of night $10.00
5:00 announcement, introduction, "a bit about the evening" from Doug Podell
5:30 to 7:00 Movie showing "Louder than Love".
8 to 8:30 SRC Band
9 to 9:30 Scott Morgan
10 to 11:00 Dick Wagner
In between bands Doug Podell will be doing short raffles, prize give a ways) etc.
After show still Jamming/music/party and announcements by your host Doug Podell
Gary Grimshaw Biography
"If he hadn't been the poster artist for the counterculture, he could have been its poster child."
Quote: Michigan's 100 Greatest Artists and Entertainers of the Twentieth Century Listing Published by The Detroit Free Press
Gary Grimshaw is a graphic artist of exceptional talent who has an extraordinary history and character; meeting life on his own terms and often against the establishment. He was born in Detroit, Michigan in 1946 and graduated from nearby Lincoln Park High School. His Grandfather was a designer at GM's Fisher Body Oldsmobile plant, his Dad a mechanical engineer. Marjory Grimshaw instilled a love of books and music in her young son Gary who loved to draw cars and comics and considered himself a writer. The oldest with two younger sisters, Gary left home at an early age but continues to be close to his sisters. He has created art work professionally since the age of twenty – that's four decades of music-related graphic art and counting. In 2011 just months after returning home from a serious health odyssey, Gary worked on the Concert of Colors poster and several PJ's Lager House designs. In 2012 he began a licensing of his work in earnest; partnering with Detroit Urban Design Studios. Laura Grimshaw, his wife of twenty years, closely contributes to keep Gary's past body of work in the public eye.
At the start of his career Gary became well known as the Grande Ballroom artist and later as the MC5 artist. These works stand out as the centerpiece of an enormously prolific output of art from the mid-1960's to the late 1970's. He became part of a dynamic collective of intellectuals, promoters, poets, artists, musicians – people that spent many years together in some form or another and in different circles of interest. For instance, as a Vietnam veteran he was an anti-war activist and a key player in the White Panther Party; he worked to reform unfair law and unjust incarcerations. His contribution was through art and his art inspired and energized the people. He was a member of Trans-Love Energies and The Rainbow People's Party. He worked on newspapers, magazines, did posters to advertise music events, did record album covers. Gary worked with Underground Press Syndicate icons The San Francisco Oracle and the Ann Arbor Sun. Gary has just completed a book with Leni Sinclair that documents this celebrated era in the history of Detroit. It features a sample of his enormous output during the first fifteen or so years of his career and dynamic photography of his friend Leni Sinclair and is called "Detroit Rocks!". Back in the late seventies he also worked with the legendary rock magazine Creem as an associate art director. During this time he and his then-wife had a son named Alan Morgan Grimshaw. Gary's son continues the Grimshaw art and design tradition with his own career.